DON'T MISS IT!
JUNE 8 SCRP Membership Meeting
Gideon Christ Community Church
915 Federal Ave, Saginaw
MOLLY MACEK Director of Education Policy at the Mackinac Center presents
"The State of Education in Michigan"
Parents have a fundamental right to direct the education of their children and should be able to choose the best learning options for them!
Dr. Molly Macek is the director of education policy for the Mackinac Center for Public Policy. She holds a Doctor of Education (Ed.D.) from Johns Hopkins University. Prior to attaining her doctorate, she earned a Master's in Teaching degree from Johns Hopkins University, and a bachelor's degree from Georgetown University.
Macek brings to the Mackinac Center nearly two decades of experience in secondary education. She has worked in both private and public schools as a classroom teacher, department chair and administrator. Macek has performed extensive research on education problems of practice and has published studies on education innovations and interventions. She has also worked as a dissertation adviser for doctoral students at The Johns Hopkins University School of Education. Most recently, Macek served as the high school principal at a private school in Toledo, Ohio.
Macek was born and raised in Marshall, Michigan and lived in the Baltimore/D.C. area for 28 years before returning to the Midwest in 2019. She enjoys spending time with her husband, two children and dog, Lego
Read Molly's latest article "Michigan's teacher evaluation system is poorly-run"https://www.mackinac.org/blog/2023/michigan-poorly-runs-its-teacher-evaluation-system
FOLLOW MOLLY on the Mackinac Center's page here: https://www.mackinac.org/about/staff/912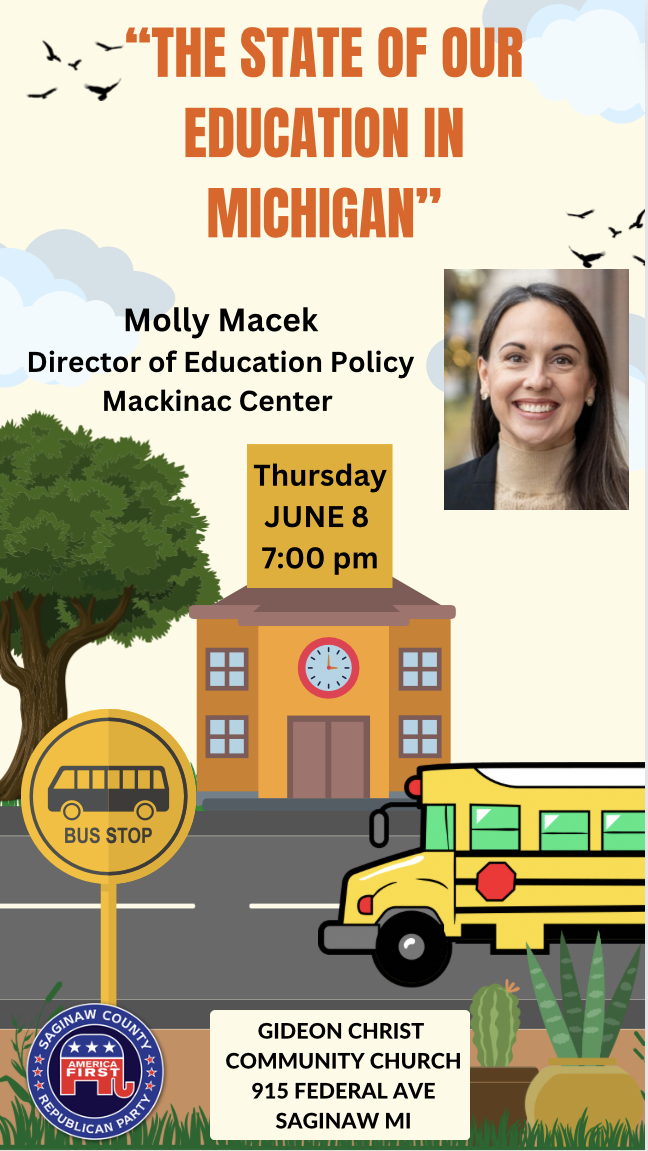 Meet a new Saginaw County REPUBLICAN
Pastor Chet Atkins of Gideon Christ Community Church!

We at Saginaw County Republican Party are blessed to partner with this man and his congregation! We meet every 2nd Thursday at 6:30 pm at Gideon Christ Community Church, 915 Federal Ave, in Saginaw. JOIN US!
The Saginaw Republican Party is built and draws its strength upon the Foundation of our U.S. Constitution, our State Constitution, and our Republican Party Platform. As we are assembled today, let's begin our time together focused on "Getting Back to the Basics" of American Exceptionalism by reading these 2 Preambles:
PREAMBLE TO THE US CONSTITUTION
"We the people of the United States, in Order to form a more perfect union, establish justice, insure domestic tranquility, provide for the common defense, promote the general welfare, and secure the blessings of Liberty to ourselves and our posterity, do ordain and establish this Constitution for the United States of America."
PREAMBLE OF THE REPUBLICAN PARTY PLATFORM
"We believe in American exceptionalism. We believe the United States of America is unlike any other nation on Earth.
We believe America is exceptional because of our historic role – first as refuge, then as defender and now as exemplar of liberty for the world to see.
We affirm – as did the Declaration of Independence, that all are created equal, endowed by their Creator with inalienable rights of life, liberty, and the pursuit of happiness.
We believe in the Constitution as our Founding Document. We believe the Constitution was written not as a flexible document but as our enduring covenant."